I'm hoping for another good sewing year - when I look back on 2017, I can't believe how much I achieved - alongside a new full-time job and two toddlers! And my review post from the other day, only really covered those projects I finished. I also made huge progress on lots of other projects: Down the Rabbit Hole, Delilah, Ice Cream Soda, Round we Go and Tula Pink Butterfly quilt to name but a few. In 2018, I'd love to keep up this momentum with lots more sewing, lots more finishes, and lets be realistic - lots more starts! I'd like to finish off the projects I've just listed. I'd also like to finish off some of the longer-standing WIPS: The 1930s Farmers Wife quilt, my Splendid Sampler quilt, the Gravity Quilt I was gifted for my 30th birthday...
I'd like to sew more for the girls: I have a couple of specifics here: Jessica would like a dog quilt (already started); Mia would like a cat quilt (pattern selected); I'd like to make each of them a new hoop for their wall each month - I have so many ideas for this! And for next Christmas I'd like to gift them something handmade - I was sad I didn't manage it this Christmas.
Obviously there are some sew-alongs I'm joining in with. I'd already planned on making a Fancy Forest Quilt, an Awesome Ocean Quilt and a Greenhouse quilt this year - they're all Elizabeth Hartman patterns, And it just so happens that @Gnomeangel is running a quilt along for exactly this over the first half of the year! I have already bought background fabric for all three (last year, so that counts as stash, right?) and the feature fabrics will all come from my newly organised and tidy stash!
There's going to be another round of #100days100blocks using Tula Pink's City Sampler as well in 2018. I'm going to use it to finish a project I've already started (@Archiewonderdog will be pleased!) - a few years ago I started a quilt of 6" blocks drawn from various sources, in my hoarded Architextures and Botanics fabrics. It's time it got finished!
I've signed up (or will sign up) for two more EPP blocks of the month for 2018:
the Curve Motion Medallion
and the
Mandolin quilt
- we'll just ignore the fact that I haven't finished the 2017 ones yet!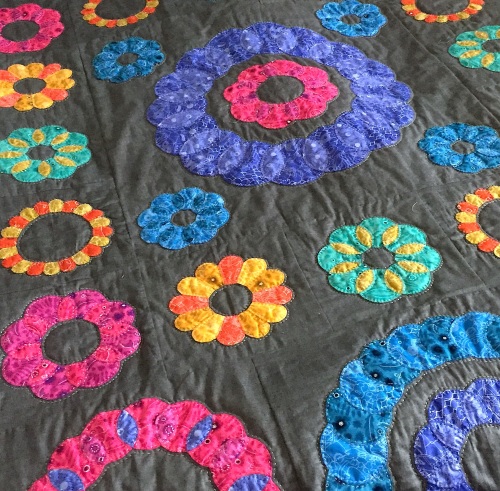 Picture stolen from the Sew Motion website, linked above -
you can find all the info to sign up and the monthly cost includes the fabrics -
all Alison Glass yumminess!
Following the success of my #365quiltchallenge quilt, I've also decided to take part in the 2018 quilt along that has been designed by the same lay - the
Aves block of the week
. The finished quilt will be epic. If I can keep up!
I go into 2018 with 94 items on my WIP list. And whilst I hope to finish some of these things off, I wouldn't want to see that number get too low! And I'd like to post here more often this year too - not just finishes, but more process posts. So I'd better get sewing otherwise I won't have anything to show you! Happy New Year!