I am an abolute sucker for a sew-along or a block of the month programme. And Gen X Quilters has run some fabulous Block of the Month programmes over the last few years! I started (but didn't get very far) the 2013 block of the month. It's definitely still on the list to finish. Last year was the Vice Versa BOM which miraculously I did finish in time for Christmas.
Back in October the next BOM design was released - no way was I missing out on this one!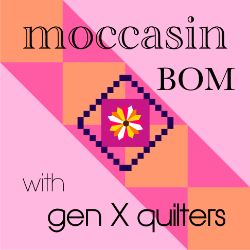 I love the colour scheme of the original design (above) but it's not very hubby friendly.... so I've changed the colours - turns out my version isn't very hubby friendly either!
I've pulled the fabrics #sewmystash2015 and I've ordered some extra solids. I haven't quite decided on the navy background so I'll hold off ordering that until later in the year. The fabrics from my stash include: Domino Dot, Cotton and Steel basics, Pearl Bracelets, Kona Solids (Willow, Asparagus, Candy Pink, Blue Jay), Art Gallery (Oval Elements, Safari Moon, Floral Elements, Urban Mod), Botanics, Architextures, Color Me Happy, Cuckoo's Calling and Violet Craft.
And I've made the first two blocks.
I really enjoyed some straightforward piecing this evening: Let's see how long I can keep up with this!