This isn't so much a post about resolutions, but a post about the things I'm going to have a go at this year (and pretty fabric I'm going to play with). You can't have read my recent blog posts without realising I'm expecting our first child in the very near future. I read a lot of inspirational blogs about Mums who still find time to sew. A lot. I hope I will also get the chance to sew in between nappies and feeds and everything else that comes with Baby. Nevertheless, I have probably planned in too much... (I'll say it before my Mum or my mother-in-law do)!
I've signed up for the
Vice Versa BOM
hosted by Anne-Marie at Gen X Quilters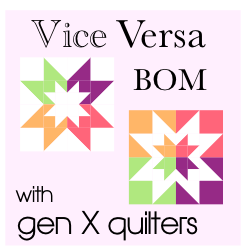 I "took part" in her Sisters BOM last year. By "took part" I mean I made the first couple of blocks... I have every intention of finishing last years quilt too, but I picked a lot of white, which doesn't necessarily fit comfortably in a house with two dogs, my husband and a new baby... so I'm still looking for a home for the quilt and that has kind of stopped me in my tracks.
This year's BOM will contain slightly more family-friendly colours and will eventually be my Husband's "hangover blankie"! Above is the fabric I've chosen, and I'm going to use Kona Shadow (a pale grey) for the background. I'll need another colour for a lot of sashing, but I figure I can think about that when I have some blocks completed. Anyone else joining in this BOM?
Just before Christmas I recieved a half-yard bundle of Botanics from Carolyn Friedlander - but I didn't get to properly look at them until today. Sooo pretty
A half-yard bundle means a fat quarter to play with and a fat quarter for a project. I have been hoarding a half-yard bundle of Architextures for months now, and I cut those into fat quarter pieces too. A fat quarter into the stash and a fat quarter to go with the Botanics. And after months of thinking what to do with these beauties I have a plan.
Since I finished my Farmer's Wife quilt over a year ago
I've missed it. So this year I am going to work on a quilt for me using 6" blocks from a variety of sources, including the Farmer's Wife, Sylvia's Brida Sampler book and any other block I see and like. Today I ordered some Kona solids to coordinate with the Architextures/Botanics and I'm just going to make blocks until either I'm bored, or the finished quilt is too big for my bed!
If you are planning a Farmer's Wife in 2014 then
Celine
has set up a
Flickr group
for communal egging on if you'd like to join us!
I'm going to work on this alongside a quilt for my Uncle - this will be closer in style to my original Farmer's Wife quilt - black and batiks. But all of the 6" blocks (more or less) will come from the Bridal Sampler book and I will only need about 70 blocks in total. This was supposed to be a project in 2013 and I bought the black batik I needed but never touched it.
I'm also continuing to take part in the
Lucky Stars BOM
- I prepped the fabric for three blocks today and added a few more fabrics to the bundle I pulled last year. I'm struggling with the blues again.
And I gave into another BOM - this time from my LQS - it's the Rosalie Quinlan Best Friends Forever BOM (
Sharon has started hers and it looks fabulous
!) - it's hexies and embroidery and something a bit different. I ordered the fabric last year and finally got round to ordering the solids just before Christmas - the prints are Happy Tones from Michael Miller and I smile every time I look at them.
I need an orange solid....
And a crazy idea to use up some of my scraps with half-inch hexagons.....
And of course I'm still working on all of the unfinished projects left over from the last quarter Finish Along, and I haven't totally forgotten about
my Dear Jane Quilt
.
I know that sounds like a lot, but have you noticed a total lack of deadlines for any of these projects - that's the bit that's different this year. I will still take part in the
Finish Along
, but I expect finishes will be fewer and further between this year. It will be more about the process...individual blocks, quick wins I can fit in when I have a few moments, hand sewing.... of course we're only three days into the new year and I'm sure there will lots more temptation in the coming weeks!
What do you have planned?