We've just had a week of really lovely weather. This morning, however, Autumn has arrived with a vengeance: misty, grey, chilly. So a quilt pattern called Aspen Glow is starting to feel appropriate.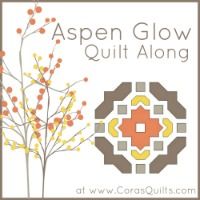 It's week 2 and we've now caught up to where I was last year. I'm making this for a relative and picked out five of the fabrics from last year's Downton Abbey range from Andover, paired with Art Gallery Pure Elements in a cream colour. These aren't my style of fabrics, but they are beautiful and I was quite pleased to have an excuse to use them!
The cutting for this quilt is extensive. I spent all day cutting. But the idea is you cut everything, bag it up, then chain piece the 10 different blocks.
I made my A blocks - these are quite straightforward. There's just lots of them.
I made my B blocks - more to do, but still straightforward. It felt like there were hundreds of them.
Now I need to make my C blocks - there seems to be quite a lot of fabric in this bag and there seem to be a few more steps. I'm looking forward to block F - that bag seems very light!
Hopefully I can keep up with the fairly leisurely schedule and have a finished quilt by Christmas!