There are so many things I want to sew along with next year, and so many quilts I've seen in 2014 that I want to make in 2015... I need to manage these projects so I'm using as much stash fabric as possible #sewmystash2015 and keep the cost down... these projects need to budget friendly... just as well I got s fabulous bundle of fat quarters for Christmas!
Technicolour Galaxy
- the new BOM from Pile O Fabric - I am so excited about this quilt - lots of more advanced techniques, quilt as you go and rainbows. What more could I want?! Of course I followed along with her 2013 Skill Builder BOM. Well - I started following along. Another dream for this year is to finish the 2013 quilt. I have some blocks pieced and quilted, some blocks pieced and not quilted and some blocks not started. I'm going to need to buy some solids (quite carefully) but I'm hoping to use a lot of stash fabric.
Moccassin BOM - this is the new BOM from Gen X Quilters and her third. I started her first in 2013, but only made a couple of the blocks. I stupidly decided to use white as the large negative space... not sensible in my household. A few months ago I had a brainwave of changing to red, so this one can now move ahead again. I also followed along with her second BOM and actually finished it within the year - the Vice Versa quilt. The third, for 2015, was revealed at Quilt Market and I knew straight away I'd be sewing along! I really like the pallette of the original quilt, and this may be a fairly large purchase of Kona solids - but I may have to delay starting this quilt for budget reasons!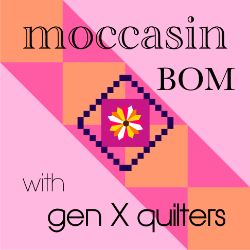 Gravity
- the 2015 pattern from Jaybird Quilts. My parents are buying me the kit for this quilt for my 30th (!) birthday. This was another quilt I knew I wanted to make straight away!
Toes in the Sand
was Jaybird Quilts pattern from a few years ago. I bought the pattern a while back and then bought Safari Moon fabrics to make it. I've just been waiting for a chance to start it. This really excites me with the specialty rulers and the triangular blocks.
Power of Nine BOM
: I found this accidentally. The blocks all seem straightforward but I love the setting. The plan is to pick a colour scheme, buy some Kona solids to match and then use fabrics from my stash.
Orange Peel Quilt: I saw so many orange peel quilts pop up last year. My dream is low volume and rainbows, but I haven't got any further.
Patchwork City
(2 different quilts): I got Elizabeth Hartman's new book just before Christmas. I love the quilt which uses all the blocks and which I'd seen online, but I also another of the settings using just the largest blocks, and as I can't chose, I'm thinking both might 'have' to be made. I think this also has to be stash.
A quilt using the same techniques as the cushions I made:
QAYG scrappy panels in portholes. Again, this is still very much in my head only, but the idea of using some of my huge mountain of scraps is really appealing at the moment. And to get those scraps sorted I'd love to make some scrap baskets using my scraps.
Months and months ago I signed up to the Amish With A Twist Quilt BOM from my Local Quilt shop. It comes complete with all fabric, and I now have all installments. I made a start - I cut th fabric in the first pack - it took me a day. I haven't done anything else. I need to reassess and decide if I actually like it, and if so, I can get going with it. If not, maybe someone else would like it.
The
Jane Austen Family Album Quilt
using Sweet Serenade by Basic Grey - fabrics I've collected over the last year and now I have enough to complete the quilt top. I'm also looking forward to reading the blog posts as I go and learning some more about Jane Austen, as I love her books (and the films more often).
As well as the 2013 BOMs mentioned above, there are some other quilts I've started and would love to see finished. First up is my Double Wedding Ring Quilt. This was another 2013 start. I've made good progress, but those Y-Seams! I do have all the fabric I need for this including a gorgeous backing, so this is a budget friendly quilt
I also really want to finish my City Sampler quilt as well - I'm hoping to enter it into the Harrogate Quilt Show at the end of summer, but there's a lot of quilting to get through first.
Not to mention the
Lucky Stars quilt from Don't Call Me Betsy
And there are a few long-term sampler quilts I'm working on too - I don't necessarily plan to finish them in 2015, but some progress would be nice: Dear Jane, Architextures and Botanics, and Sylvia's Bridal Sampler.
And of course every time I go on Instagram or read blogs or dare to venture onto Pinterest I see something else I want to make....It's just as well I got a beautiful package of fabric for Christmas! This was yesterday's new project....
What are your plans?